hazardous material emergency removal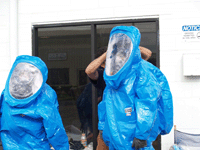 PENCO is a highly trained and experienced HAZMAT Response Team. All Response Technicians are properly trained per OSHA standards in addition to specialized inter-company training on the unique aspects of spill responses. We have the resources and expertise to respond to all levels of responses, including "Level A and B" entries. From the initial field hazardous categorization test (Hazcat) to the final material disposal, we provide a professional, cost-effective solution with attention to regulatory detail.
Our teams are properly trained to implement and operate under the Incident Command System (ICS) to enhance integrated response management. We regularly meet the rapid response time of one hour for emergency "call-outs". In short, we're there when you need us!