Oil Spill Clean-Up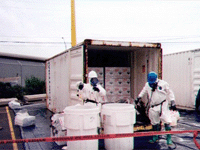 PENCO is classified by the U.S. Coast Guard as a Class B, 1250 barrel a day, Harbors and Shoreline Oil Spill Response Organization (OSRO) contractor. Our staff of professionals is trained to OSHA, EPA and API standards. We pride ourselves on maintaining excellent working relationships with local and federal agencies in Hawaii and Alaska and with keeping up on changes to the Oil Pollution Act of 1990 and other regulatory rules and requirements.

Our technicians maintain skim pack, T-disk, roller, Oleo and Desmi skimmers as well as a warehouse supply of various oil absorbent materials. We also own an ample supply of pumping systems including submersible, diaphragm, peristaltic, and centrifugal pumps with vacuum truck support. Our fleet of workboats, tugboats, barges and skiffs are "response ready" 24 hours of the day, every day of the year.
The Alaska Region has a crew of over one hundred (100) 40-hour Hazwoper trained personnel ready to respond upon notice.
The assets and experience of American Marine Corporation combined with Pacific Environmental allows for a wide base of operations for marine oil spill response. Whether cleaning up a small 50 gallon spill or tackling a natural disaster such as the Selendang Ayu oil spill in Dutch Harbor, Alaska, PENCO is prepared to respond to emergencies of any magnitude.